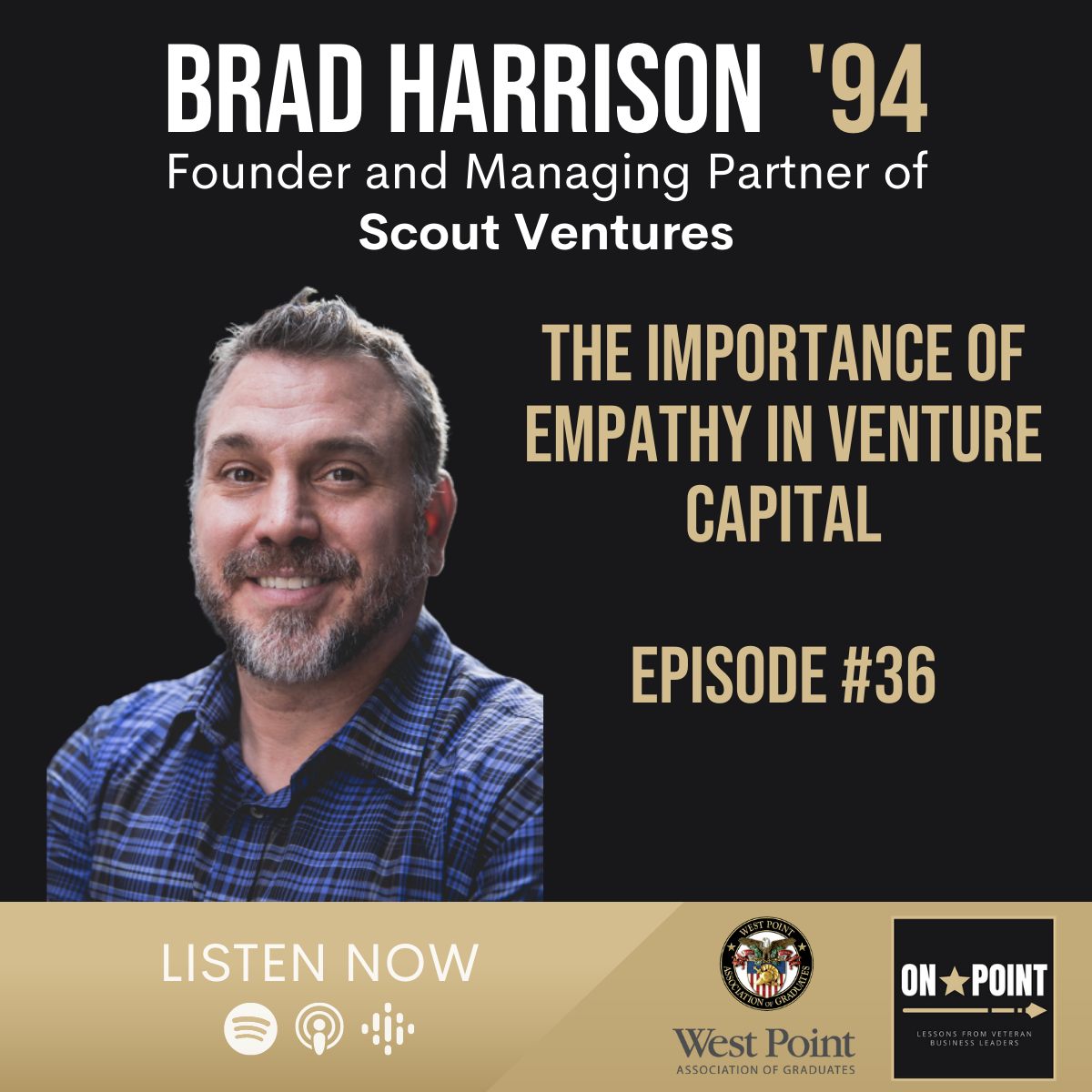 This episode of On Point features an interview with Brad Harrison, Founder and Managing Partner of Scout Ventures, an early-stage venture capital firm making the world a better, safer place by investing in frontier and dual-use technologies built by veterans, intelligence leaders, and premier research labs.
Brad is an entrepreneur and seasoned business development executive with a passion for building companies that are pushing the envelope of technological innovation. He has successfully helped incubate several companies out of the Scout office and has deep experience developing concepts to include co-authoring 3 patents in search, geo-tagging, and personalization. Brad was a distinguished honor graduate of the United States Military Academy at West Point in 1994 and served as an Airborne Ranger in the United States Army for five years before retiring as a Captain. He also graduated from the MIT Sloan School of Management where he studied New Product and Venture Development.
In this episode of On Point, Brad discusses his experience in the military as a leader and why he always put the lives of his soldiers first. He explains how the skills and experiences he had at West Point and in the Army helped prepare him to be an entrepreneur, venture capitalist, and mentor. Brad talks about his mission of making the world a better, safer place by guiding and investing in people to help build their business dreams and gain personal successes.
-------------
"The advice that I give to people that come out of the academy and out of the military is you need to understand how special you are. You're different than everybody else out there. Right? If you were in combat, you had to make decisions, split-second decisions in an everly changing environment where it was life or death, right. You've got the capacity to think and process information in a way that your peers just don't have." - Brad Harrison
-------------
Episode Timestamps
(02:24) Segment: AAR
(03:37) Brad's West Point experience
(05:37) Impactful classes at West Point
(07:07) How Brad spent his summers
(07:52) Brad's experience in the Army
(13:00) Mentorship in the Army
(15:59) Segment: SitRep
(30:27) Brad on founder empathy
(34:33) Sports aligning with VC
(36:35) Funding at Scout Ventures
(43:21) Academy Investor Network and the West Point AOG Entrepreneurs Summit
(45:21) Segment: SOP
(48:39) Brad's daily routine
(52:15) How to cultivate relationships
(57:11) About the Academy Investor Network
(61:14) Segment: Giving Back
-------------
Links
West Point Association of Graduates